Document Conversion
Instructional and other informational materials may exist in a variety of formats that prevent a student with a print-based disability from engaging and interacting with the information. While colleges should strive to adopt instructional materials that are accessible, it is necessary for colleges to develop document conversion strategies to produce materials in alternate formats.
CCC Document Converter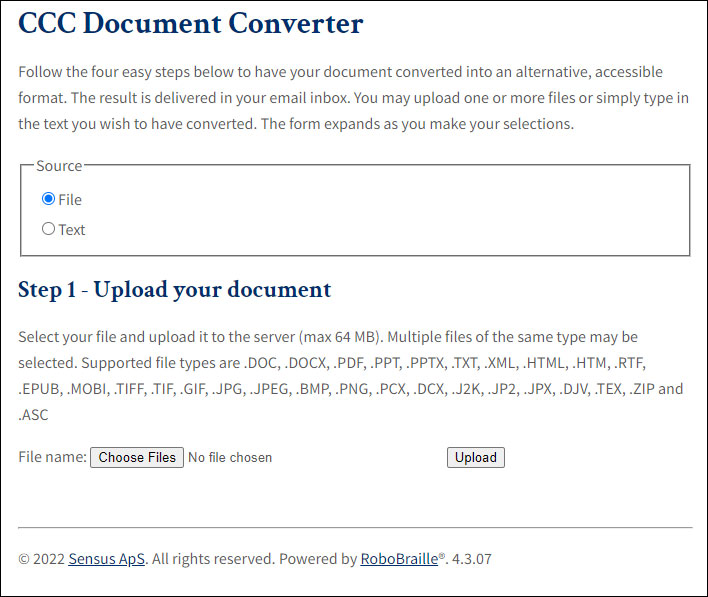 The CCC Document Converter is a free tool for the California Community College alternate media specialists and staff to help convert digital files into alternate formats.
The CCC Document Converter helps you generate different file formats that might be difficult or time-consuming to produce otherwise. The converted file may need only minor editing before being ready to use, or it may be ready to deliver to students as is, if the source file was clean and well prepared.
The CCC Converter allows you to submit files via the following options:
an uploaded file
an URL for an online document
manually entered digital text.
Once a file has been uploaded and processed, an email will be delivered with the selected file type.
Please Note
Source files need to be of good quality in order to maximize conversion accuracy.
Some file outputs may require additional editing after conversion.
PDF documents that are locked for security purposes will not be processed.
The file upload limit is 64MB.
Copyright law of the United States (Title 17, U.S. Code) governs the making of photocopies or other reproductions of copyrighted material. The person using this equipment is liable for any infringement. This service is provided only for non-commercial instructional and educational use, and any other use is prohibited.
Steps for Usage
CCC Converter utilizes a dynamic input form that will respond with custom options based on the information you provide it. Here are the steps to convert a document:
Visit the CCC Converter Website
Determine your source file. Supported file types include MS Word, PDF, PowerPoint, and most image formats.
Determine your output:

Accessibility Conversion supports conversion of image and PDF files into: MS Word, RTF, PDF, and HTML formats
MP3 Audio, with speeds of: normal, slow, slower, slowest, fast, faster, and fastest
E-book, including ePub and DAISY

Enter your college email address to receive your finished file once it is completed. Document conversion is limited to recognized California Community College email accounts.
Please email the CCC Accessibility Center at This email address is being protected from spambots. You need JavaScript enabled to view it. if you have any problems or questions.
Common Output Options
While there are many file formats you can submit, not all file types can be converted directly to a target format. Here are some of the more common paths towards alternate formats:
| Target Format | Input Format |
| --- | --- |
| PDF | Word, PDF, image file |
| Word | PDF, image file |
| MP3 | Word, plain text, image file |
| HTML | PDF, image file |
| RTF | PDF, ePub, image file |
| ePub | Word, PDF, RTF, image file |
| DAISY | Word |
Optical Character Recognition
Documents that exist as a scanned image or a picture of text must undergo optical character recognition (OCR) In order to convert the scanned image of text into actual electronic text. Such OCR programs can turn image files into documents that can then be further edited for improved accuracy.
OmniPage and Abbyy Finereader are two OCR solutions used by many colleges that support the conversion of scanned and image-based file types into text-based formats.
OmniPage
Abbyy FineReader